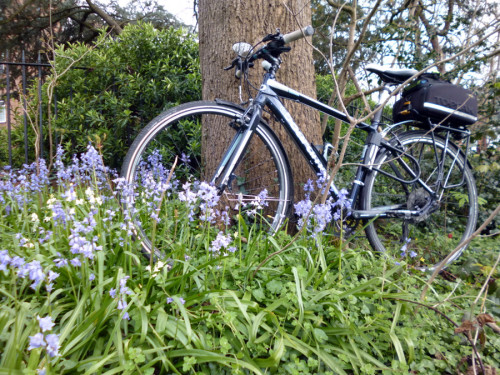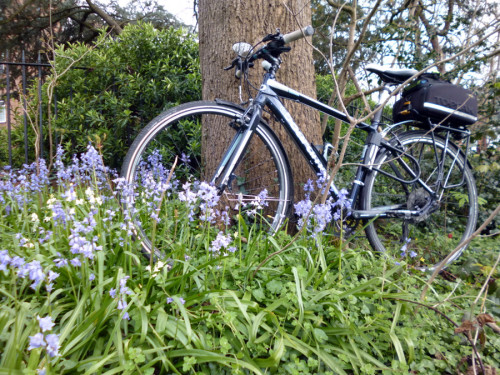 If you had told me a year ago I would be commuting to work by bike I wouldn't have believed it.  I had a few biking experiences in London and most of them terrified me.  However after borrowing a bike from work a few months ago to test the roads of SW London I decided to give it a go and get my own commuting bike.
It's an 8mile/13km journey and I have chosen the worst time of year to start, when the weather turns wet, the days are short and the roads are covered in slippery leaves which will soon be replaced by ice.  I had to learn quickly how to cycle safely during the winter months which bring on very difficult cycling conditions.  The timing was perfect when LV= asked me to write a post about cycling safety. I didn't hesitate to say yes, as a newbie cyclist the lessons learned are fresh in my mind.  Hopefully this post will help others or maybe even convince someone to give cycling a try themselves.
The Bike
It has been many years since I've ridden a bike regularly and that was in Canada where they drive on the right side, so I had a steep learning curve ahead of me. Cycling safety and comfort were my top concerns when choosing my gear.  I choose a nice sturdy hybrid bike, the Boardman Hybrid Fi Bike 2014, which is also surprisingly light (until I fill up my pannier that is).
Staying Dry
The next step was finding the right jacket. For me, this meant the typical floro yellow waterproof jacket I could find.  Nothing beats the visibility of the bright fluorescent yellow jackets cyclist wear for the dreary days of winter.  Add to that a waterproof cover with reflective strips for my pannier should the weather really not cooperate.
All Lit Up
At night lights are your best friends and a legal requirement. I have flashing front and rear lights which run on batteries and I carry back up lights with me.  I've seen cyclists with lights on their helmets and their wheels giving the dreary winter nights a little twinkle.  As well my bike has the standard reflectors on the handlebars and under the seat in the rear.
Winter Time Gear
Other winter considerations are about keeping warm. So I bought warm waterproof gloves to keep my hands warm and dry, a buff (aka snood), warm socks, a down vest and a hat for keeping my head and ears warm under my helmet.  It's quite the look but this is one time when for me dressing it isn't about fashion.  It's worth investing in good gloves and a waterproof/windproof jacket, if you stay dry and warm it makes cycling more pleasant and you'll be more likely to stick to it.
Extras
For those who haven't bought a bike since becoming an adult, you might be surprised to learn most don't come with pedals. I chose to get metal pedals with good grips (read metal studs) to make sure my feet when wet or mud covered would not slip unexpectedly on me.  I also made sure to get fenders, which I learned (thanks to the LV= infographic below) not only help keep the rider clean but also help keep breaks dryer and cleaner.
As well make sure to keep a puncture repair kit, pump and spare inner tube with you for the unfortunate flat tire incidents.
Tips
Even in winter it is important to stay hydrated.  You will feel better for it. So make sure to carry water with you and hydrate before and after your ride if is of any distance.
Some people have seat covers to help keep their seats dry, I'm lucky in that my bike is covered at work and at home when it's parked. However, there are times my seat gets wet and for that I carry a handkerchief in my pocket to wipe it dry.
When I arrive at my destination I make sure to get out of my cycling gear as soon as possible to avoid getting a chill. I then get a nice warm drink or jump in a hot shower (this depends on the degree of sweat involved!)
I try to make sure to give my tires and brakes a quick check before heading out if for no other reason than to avoid riding 8 miles with my brake stuck on as I once did.
Like driving make sure to cycle at speeds that are appropriate for the conditions.
Make sure to have your bike serviced regularly so you know everything is in working order.

And don't forget to enjoy the ride!