I've always been a fan of wool. Being from Canada, I've always had a wool sweater (usually big and chunky) of some kind as part of my wardrobe to keep me warm in winter. When I started cycling, I learned about merino wool's ability to keep odour at bay and help keep you warm even when wet. I get cold quickly, especially when water is involved so this trait of merino wool is essential for me. Over the past few years, I've had many merino wool shirts and sweaters for wearing on and off the bike. On bike tours, I particularly love merino wool because when I've gone a few days without a proper shower, I can interact with other people without having to worry about smelling too badly. I also use merino wool leggings and socks for sleeping in when camping on tour to keep me warm through the night.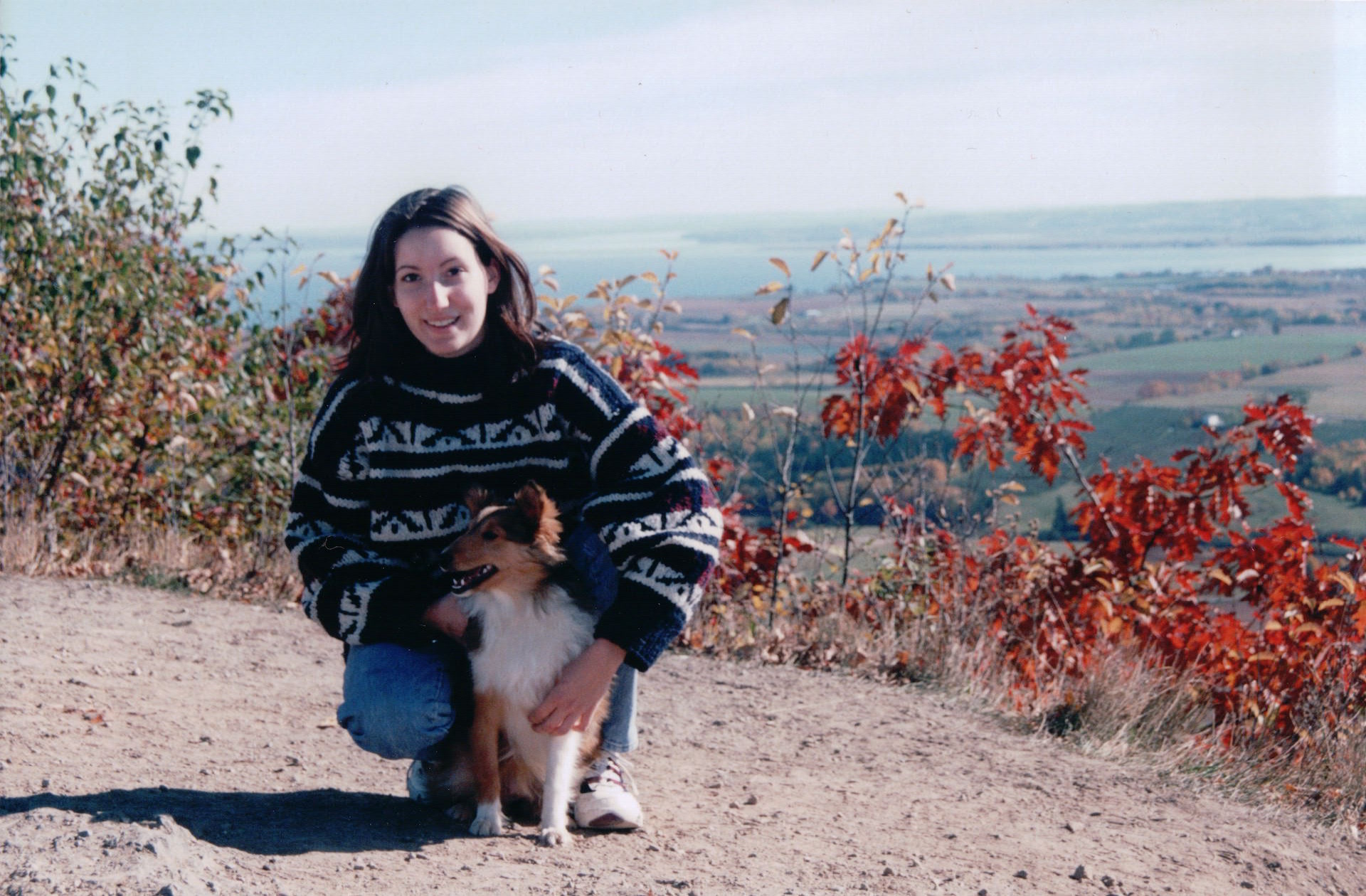 Little by little my as I've felt the benefits of this natural material, my merino wool collection has grown. I came across FINDRA, a company that specializes in merino wool cycling clothes shortly after I started riding, and have been a fan almost from their start in 2014. FINDRA is a Scottish company run by Alex, a women who was frustrated by the fact that there weren't many good clothing options for women who mountain biked, she struggled to find clothes that were functional, fitted well and were also attractive and comfortable, so she decided to do something about it and FINDRA was born.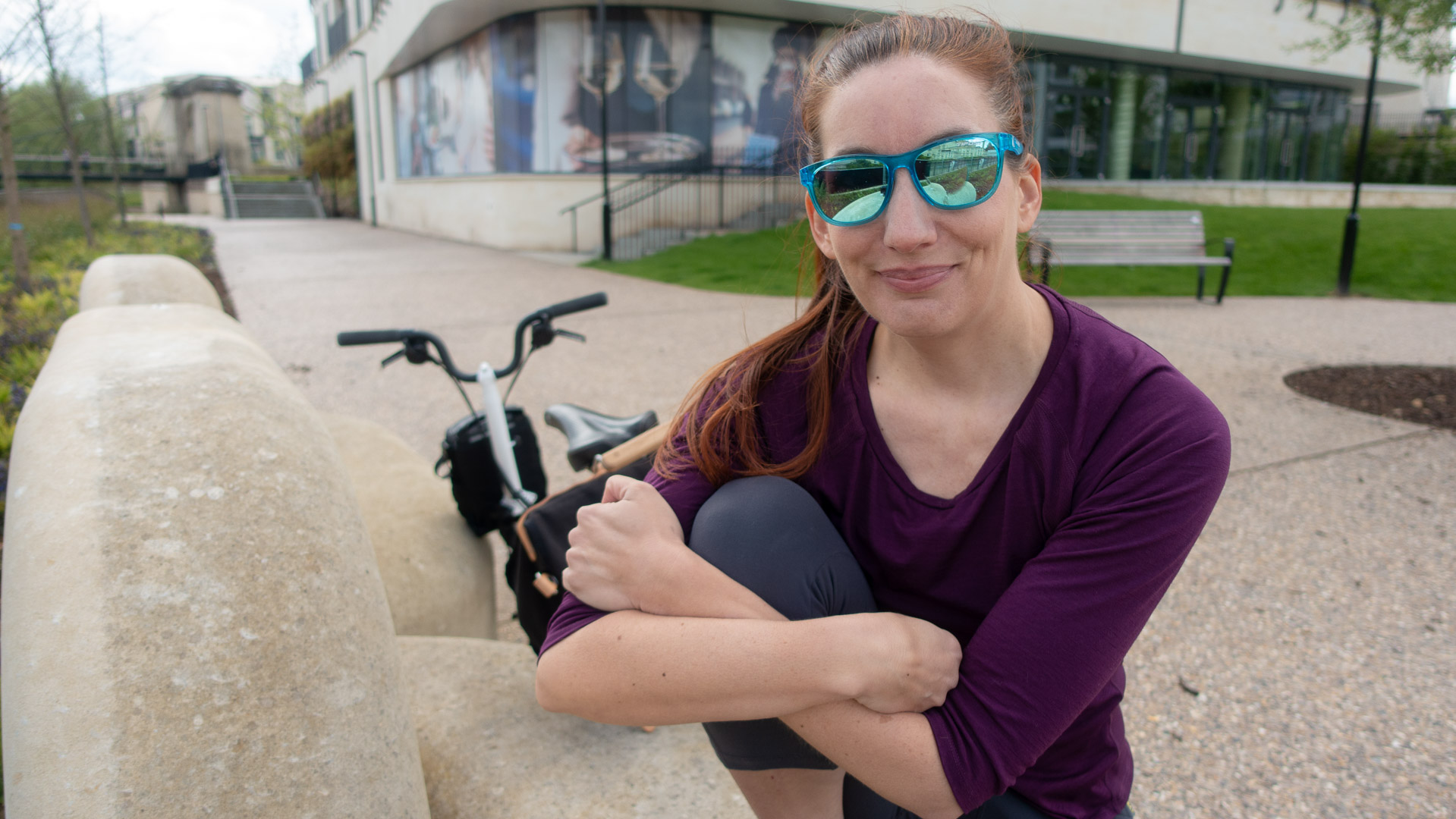 I bought the FINDRA Alisa tee in a beautiful blue colour last year, and I now have the Alisa top with 3/4 length sleeves to wear under it. All the colours in the FINDRA collection go well together making layering them easy.
This year I've started doing some off-road riding, something new to me. Part of learning about a new type of cycling is learning what's best to wear when gravel riding. What I've discovered is the joy of layering lightweight merino tops. These tops are great on their own and when layered they get me through a range of temperatures, keeping me cool and dry when it's warm and warm when I use them as base layers under my jacket in colder weather. This is because merino has excellent moisture wicking properties meaning you feel drier and sweat evaporates quickly important in hot and cold weather.
When Alex contacted me to ask me if I would be interested in reviewing a few of their pieces, as an admirer of the company I was thrilled. We're both passionate about getting more women out on bikes so they can discover the joy riding brings especially the benefits of getting outside in nature as a regular part of your life. FINDRA sent me the following items and this is what I thought of them.
Oronsay Merino-light 3/4 Sleeve Top
I love the richness of the colour of the Oronsay merino-light 3/4 sleeve top, it plays well with the teal in my Alisa tee. I've worn this shirt off the bike with my cargo trousers for a casual look and I also wear it on the bike when riding around town or gravel riding on the Diverge. It's excellent as a light base layer (it's 150g merino) for those in-between seasons and worn as a top on its own. It has kept me cool when I needed it on warmer days during an early heatwave here in the UK. The Oronsay top has also made it possible for me to wear my Alisa merino-lite t-shirt in colder weather which makes it a top I can now wear year round.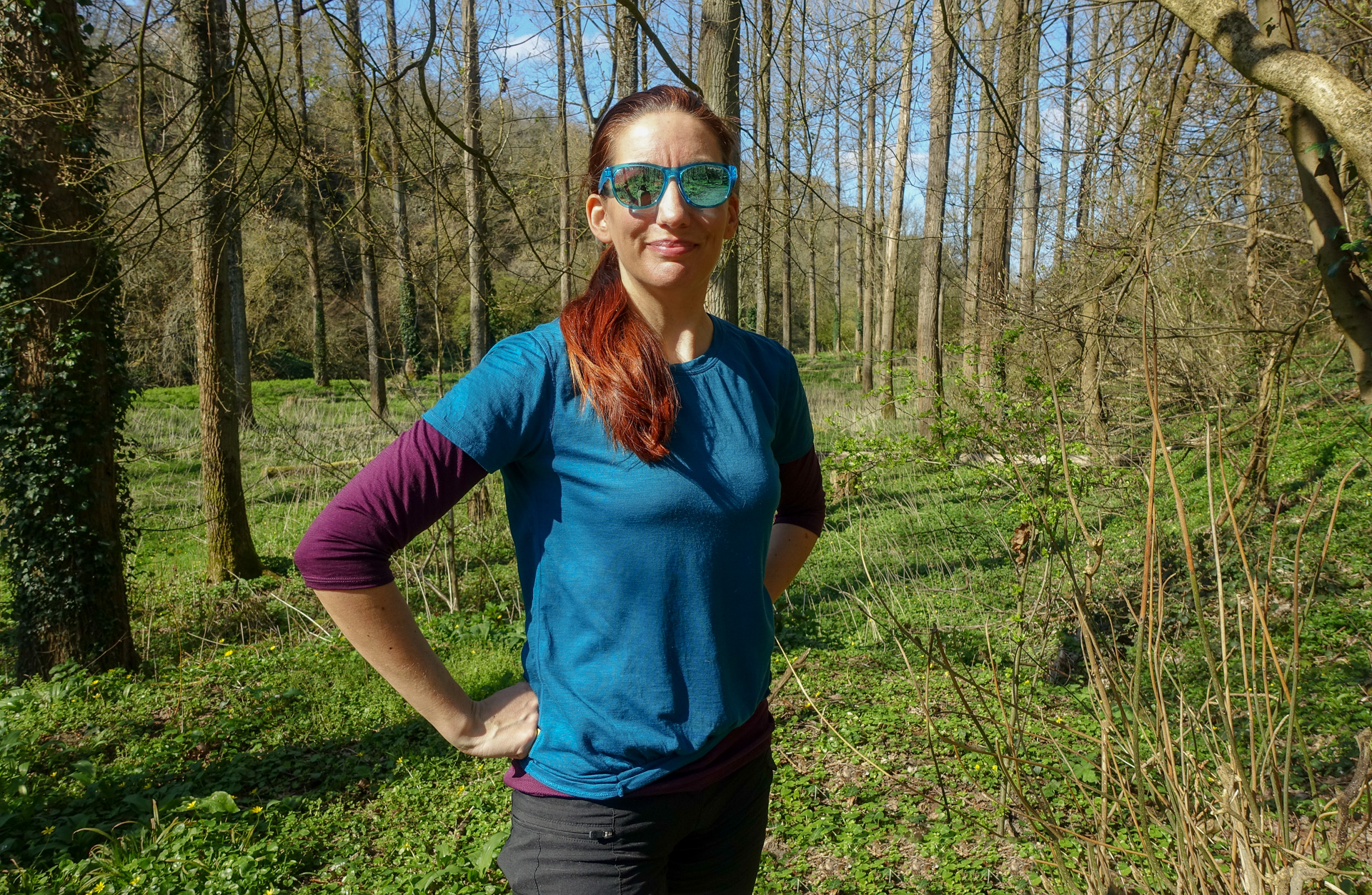 I love how this top fits, fitted where it needs to be and giving me room were I (and most women) need it most, around my hips. It's the details that make this top look great, as I mentioned the cut suits me well, and this top is made with fine merino wool, of good quality with a touch of nylon in it for stretch and durability, so it lays beautifully, and washes and wears well. The back of the top drops slightly, which even when I'm not riding I like because I don't have to worry about having plumbers butt when wearing low rise trousers. The top has lighter more airy panels around the arms where they join this means heat can escape where it needs to. Lastly, the top doesn't have any tags on the inside of the collar, so no itchy tags digging into your neck.
The Oronsay top is a versatile top that I am getting a lot of wear out of. I find I reach for it quite often because it's functional, comfortable and looks great.
Padded Leggings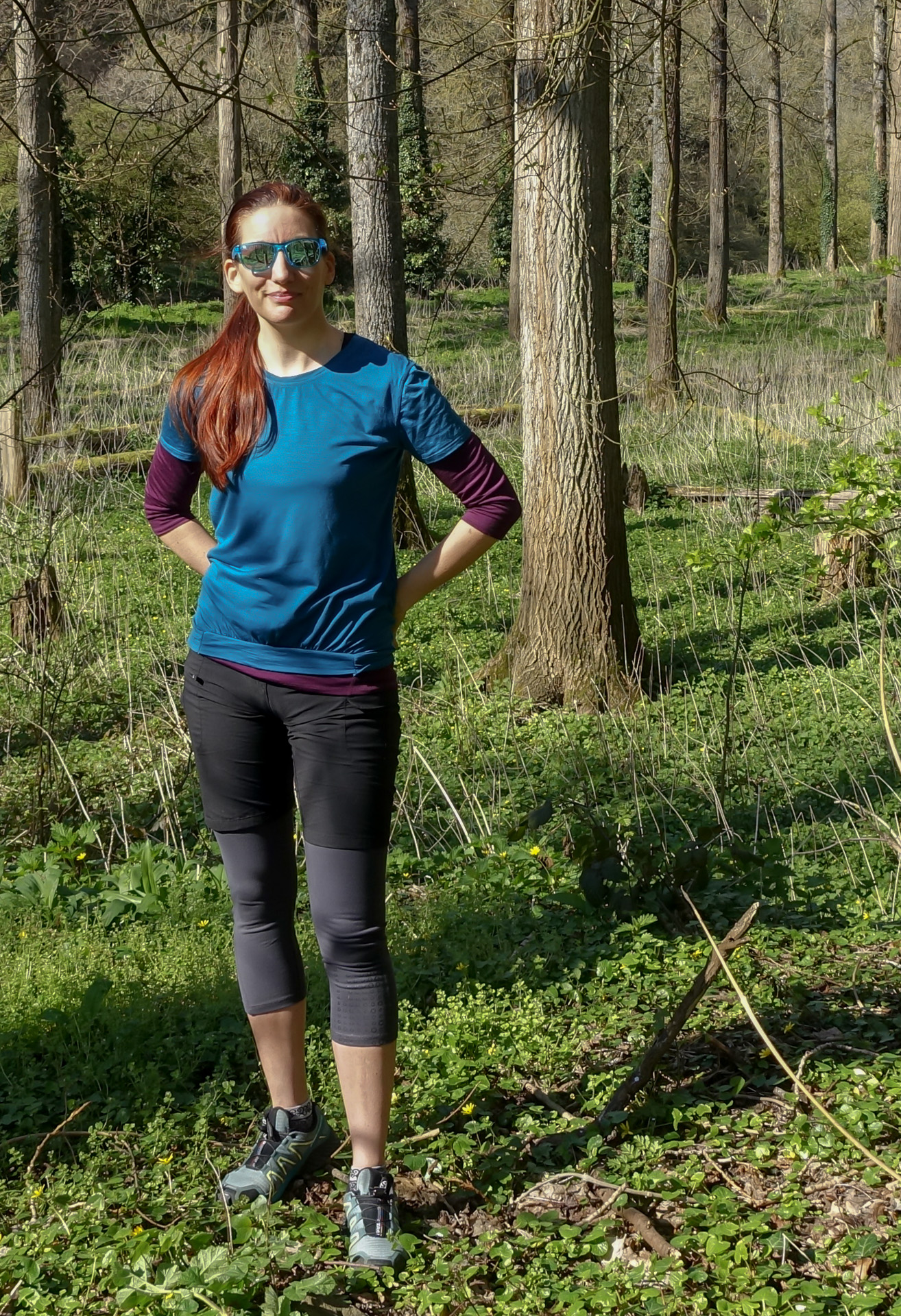 Along with the top, I was sent the super soft padded leggings, they currently come in 2 colours, and I have the nine iron grey ones which go nicely with quite a few items I wear on the bike both off-road riding and road riding. These leggings are my first 3/4 length cycling leggings. Up until now, I've been making do with knee warmers with my shorts. Not having to worry about the knee warmers being pulled up high enough was great. For a good part of the year here in the UK we have temperatures under 15C, which is when I start wearing knee warmers so I'm sure I'll be reaching for these quite often.
I love the softness of the leggings but I was a bit worried about what they would feel like if they got wet. I've ridden in them in damp showery conditions, and they dried before I had a chance even to notice they were wet. They are water resistant so that may be why I didn't feel any dampness.
When I first put on these leggings I notice that, even after having worn and washed them a few times I feel like the chamois (which is great quality) is a bit bulky, but as soon as I sit on the bike for a minute I no longer notice it (even off the bike). So should you try them on don't be worried if the chamois feels big, it seems to shape to you once you've sat on your bike. There's an unpadded version coming out soon which I'm pleased to hear as that will make them great for wearing on the bike and as well as regular leggings off the bike.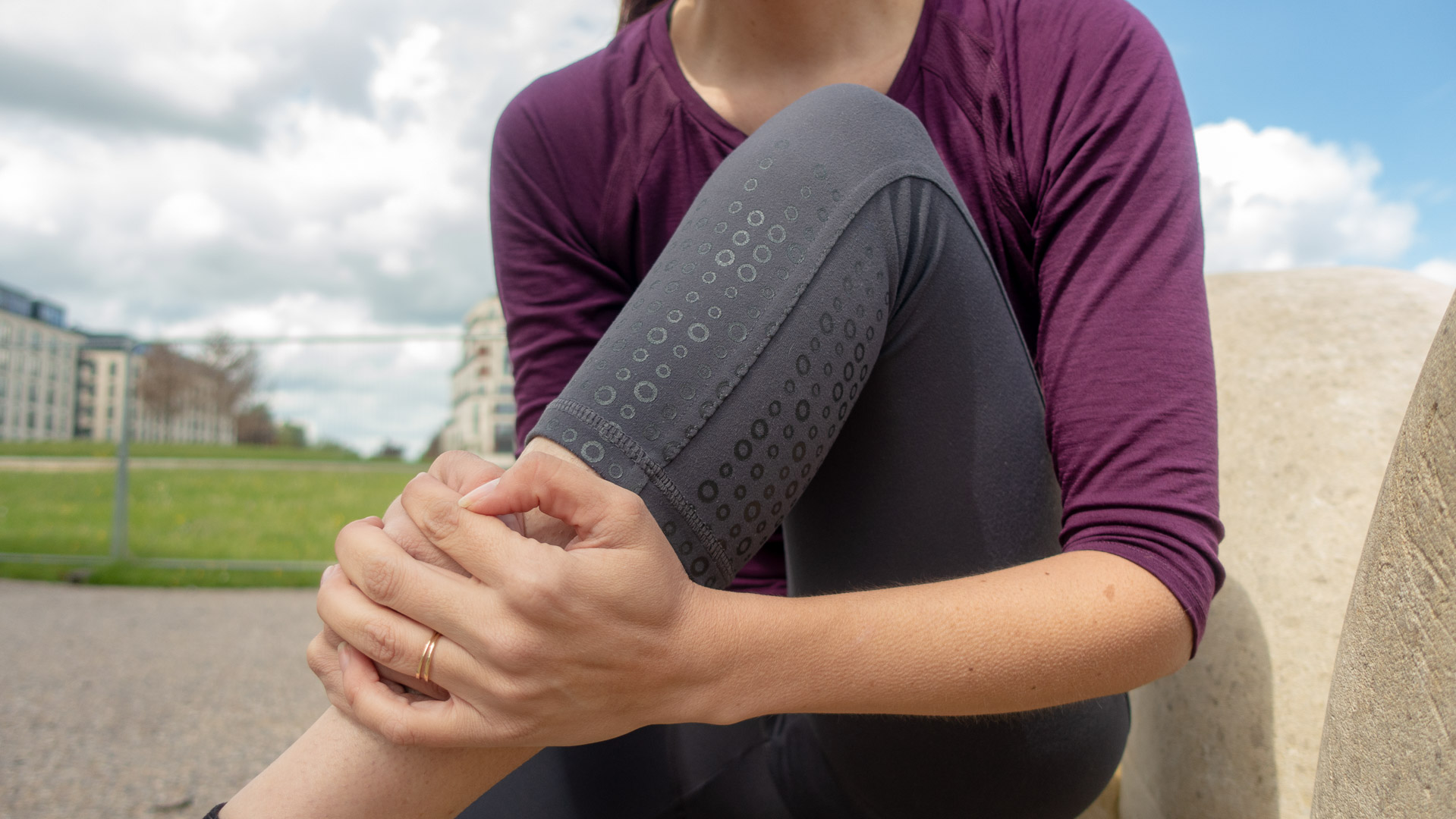 I'm not being paid to say any of this I'm happy to support another woman doing great things and I like FINDRA's ethos. The FINDRA pieces are items that fit nicely into my bike life and I look forward to adding to my collection, the new Stroma jacket and a neck warmer are next on my wishlist, and I'm excited to see what the new collection brings. Oh, and for the men out there you are in luck, just over a year ago, FINDRA started to produce a line for men too. So do head over to the FINDRA web site find out more.