This post is sponsored by Fuller's Beautiful Bedrooms. They asked me to visit one of their pubs with bedrooms and share the experience with you. One of the reasons I said yes (besides the obvious, beer!) to working with them is because Fuller's recognises that cyclists are good customers and they are right, the cycle tourism industry is worth €44 billion in Europe. When I hear of a business going out of their way to make cyclists feel welcome, I'm all for supporting that business. Read on to find out more.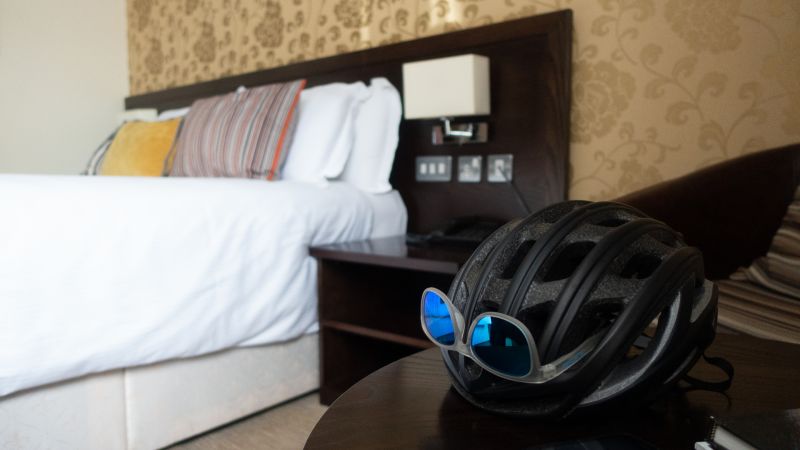 Nathan and I haven't had the chance to get away on a proper cycling holiday this year because we've been busy getting settled in Bristol. A minibreak was just what we needed, a chance to get away, relax and cycle in a new part of the country while keeping the travel time to a minimum. The question was which location to go to.
All Fuller's hotels and pubs have their own unique character based on the building and location, so no two locations are alike. After taking a look at the Fuller's pub and hotels within a couple of hours drive of Bristol we decided on the Hampshire Hog Hotel next to the South Downs in the south of England, we booked in, marked our calendars and counted down the days.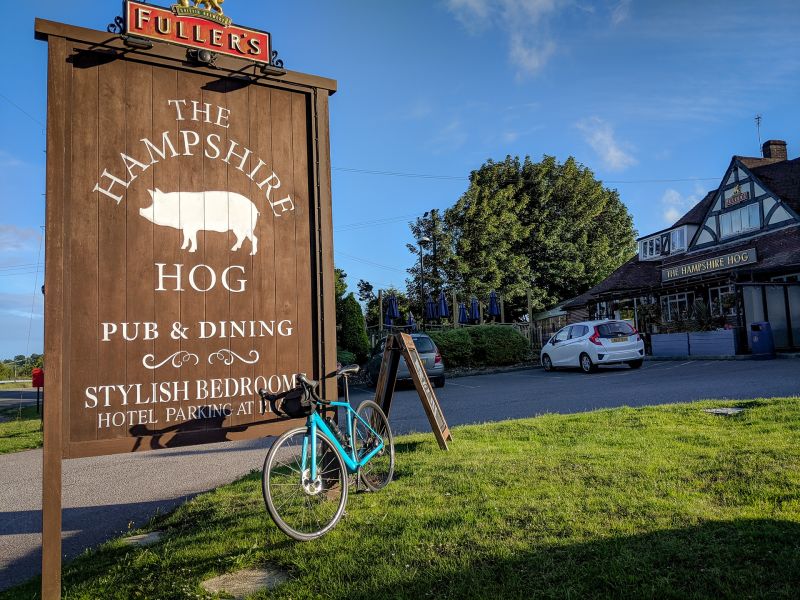 The week before our arrival, I contacted the hotel about the options for bike storage so that I would know what lock I would need to bring for the weekend. I was really pleased by the understanding shown by the hotel of our need to feel our bikes were secure. They advised me that they have plenty of space, 2 secure sheads, and also offered to put us in a room on the ground floor so that if we wanted, we could keep the bikes in our room. Amazing!
When the Friday arrived, we strapped our bikes to the back of our car and left rainy Bristol behind arriving at the Hampshire Hog where it was sunny. We checked in and were told all about the cycling routes nearby as well as where we could store our bikes, and as promised we had a ground floor room. We were made to feel welcome to choose to store our bikes where we were most comfortable.
Being the paranoid ex Londoners we are, we brought everything into the room and were happy to see that even with the two bikes, there was plenty of space to move around. We had a nose around the room checking out the coffee and tea stash then, as usual, we managed to make it look like we'd been there a week in about 30 minutes of our arrival. We checked the time and decided we could squeeze in an evening spin in the sun before dinner. A good leg loosener after the drive.
Arriving back to the Hampshire Hog we saw the dedicated bike parking in front of the pub and noticed there was a bike repair stand with tools next to it. I immediately hoisted my bike onto it because it was making an annoying squeal. After inspecting my bike, with no luck, we headed to the room. I jumped in the shower (hot showers, good water pressure and big fluffy towels, check!) and when we were both freshened up we walked the 10 seconds down the hall to the pub for a chilled out pint and dinner.
The staff in the pub were great when it came to helping us with our beer selection. Nathan went for a Grapefruit IPA, really refreshing and I went for a session ale to be safe because I wanted to make sure to enjoy my ride the next day to the fullest.
Nathan was pretty hungry and panic ordered, he ended up with a salad as a main, a Spelt and spiced aubergine salad, it turned out to be a very good choice full of flavour and his Bakewell tart for dessert made sure he was plenty satisfied. I went vegan and got the vegan Chilli with guacamole to try something new, it was full of flavour too. I went all out for dessert and had my favourite British dessert, sticky toffee pudding which had the yummiest salted caramel ice cream on top. Divine.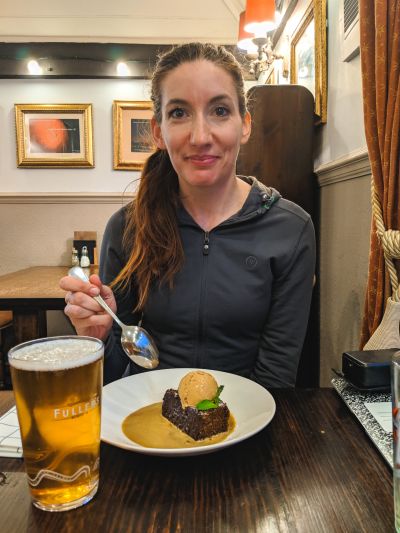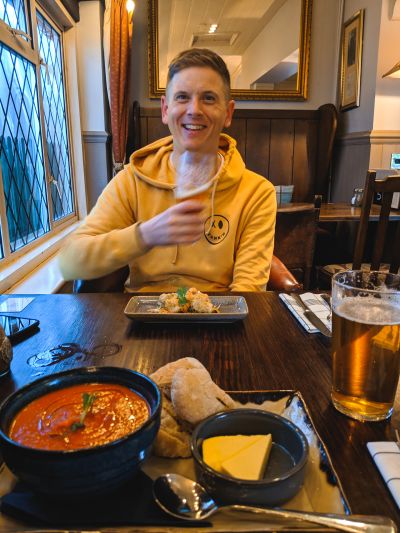 After enjoying a second cheeky beer, we headed to bed, loving that it was just down the hall, so convenient. Before we knew it we were under the crisp white Egyptian cotton sheets ready for a good sleep looking forward to some more exploring.
The next morning started off bright and sunny, we were enjoying the comfy bed so we had what we would call a lay-in (past 7:30 am) then got up and made our way down the hall looking forward to a good breakfast to fuel our ride. There were so many good things on the breakfast menu (which is included in the rate), when I saw fluffy pancakes with maple syrup, the Canadian in me couldn't resist.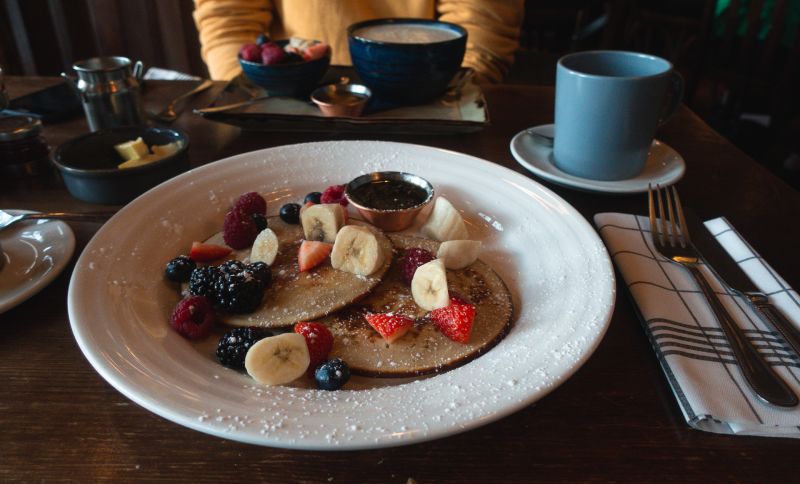 As we enjoyed our breakfast the weather started to change and we lost the sun. Then just as we were about to head out a rain shower started. We ducked for cover under the patio where we waited for it to blow over. As we waited we watched other cyclists go past on the road in front of the Hampshire Hog. Mountain bikes seem to be pretty popular in the area, not a surprise with the miles of tracks and trails in Queen Elizabeth Park just down the road. Finally, the rain broke and we headed out.
The cycling route we were riding was a variation of one recommended to me by @jakeCareyRand who is from the area (you can see the route we rode here). The complete loop includes a visit to the beautiful town of Winchester where the largest cathedral in the UK. Getting local recommendations for routes is always great (RideWithGPS.com and Kamoot are also great options for finding routes). With a few villages on route and some recommendations from Jake we had a coffee stop planned for along the way.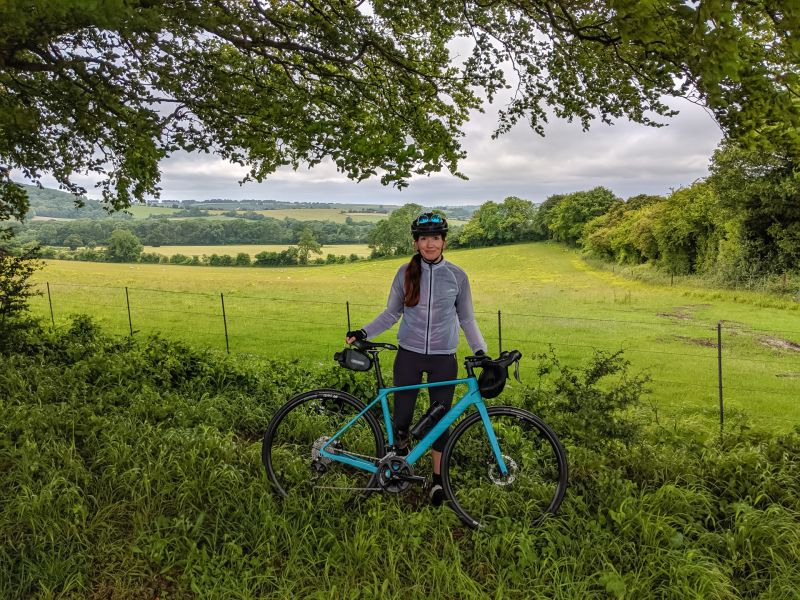 At the town of Alresford we congratulated ourselves on our luck keeping dry despite the dark clouds we'd been surrounded by, but it seems we jinxed ourselves because just as we got our coffee and cake it started to drizzle on us, cake in the rain, how British! The good news was the wet weather stopped the noise my bike was making.
We continued along our route enjoying views of the rolling hills that make up of this part of the south downs, as well as the admiring the beautiful architecture, including many a thatched roof. The countryside in the UK can be very charming, even in the rain.
We arrived back at the Hampshire Hog to see a row of mountain bikes in the bike parking, perhaps the group had finished up a ride of the tracks in Queen Elizabeth Park, or maybe they were escaping the rain and making the most of an afternoon in the warm dry pub.
After wiping our bikes off with our sweat towels we headed to our room a hot shower and warm drink were just what we needed, I made a pot of tea from the well-stocked tea selection, there was even proper milk in the fridge none of the nasty long life stuff in little tubes. We forgot our AeroPress so Nathan made the most of the cafetiere we found in the room and had a coffee.
Clean and warm we saw had a few hours until dinner so we decided to go exploring. We visited Hambledon Vineyard where they make a lovely sparkling wine a short drive (or easy cycle!) away, unfortunately, we were too late for the tour but we had a look around and then headed back to the hotel hoping the sun might show so we could have a beer in the lovely beer garden at the Hampshire Hog. It wasn't to be, so we made the most of the great selection of beer and stayed warm and dry inside enjoying the relaxing atmosphere of a country pub with other cyclists, hikers, regulars and a dog or 2 as a company.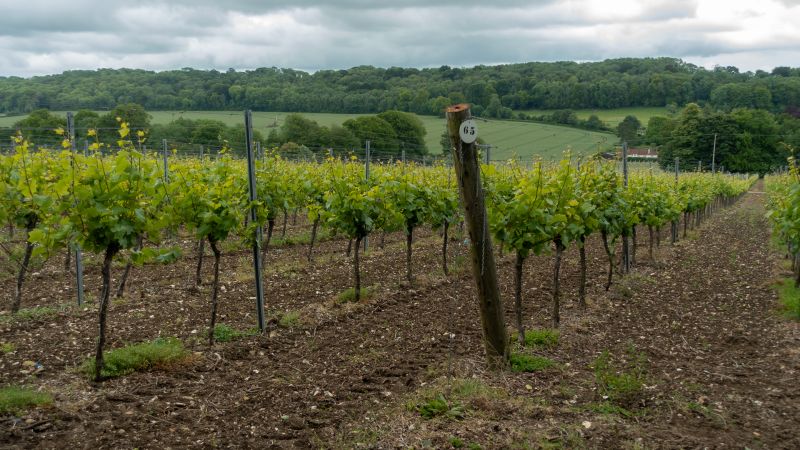 Before we knew it it was dinner time, we were pretty hungry. I decided on the ribs with the amazing triple cooked chips and Nathan went for the fish and chips after seeing someone else's order, the fish had the perfect crisp golden batter and he assured me it tasted as good as it looked, I won't eat it because I don't like the fact that they leave the skin on her in the UK. Both of us were stuffed by the time we finished, not even room for dessert. After chilling out on the couch finishing our drinks we headed back to our room satisfied with our relaxing day.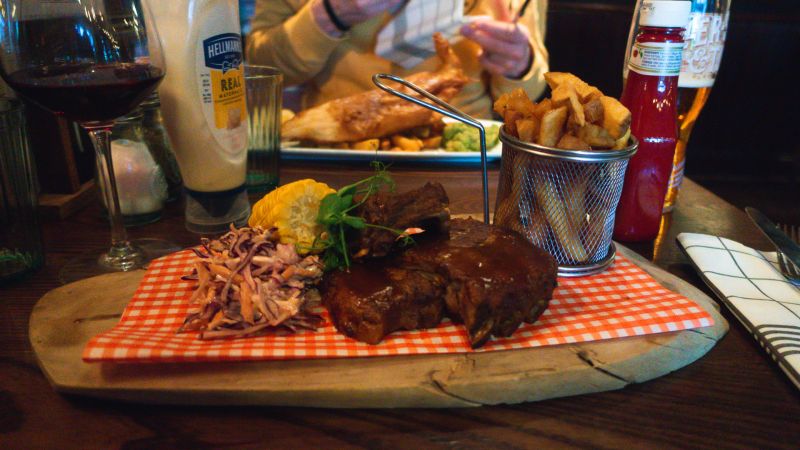 We have some pretty big challenges coming up in July, August and September which we have been training hard for, so it was a real treat to be able to have a relaxing weekend with a little bit of riding and relaxing as well as being able to enjoy a few drinks and good food. The staff at the Hampshire Hog were lovely, they looked after us well and all the thoughtful touches in the Pub and Hotel made for a great weekend away.
The Hampshire Hog Hotel truly does welcome cyclists and the hotel has a great location as a base for rides (road or MTB) and hiking around the South Downs. I've inspected and stayed in many hotels, this hotel offers great value, use the discount code FST1845 for 15% off and rates start at £67.15 including the full breakfast. Fuller's has other locations that also welcome cyclists, so if you are looking for a quick getaway and somewhere new check out the websites to learn more about Fuller's Beautiful Bedrooms the below Fuller's hotels, in particular, have facilities that cater to cyclists: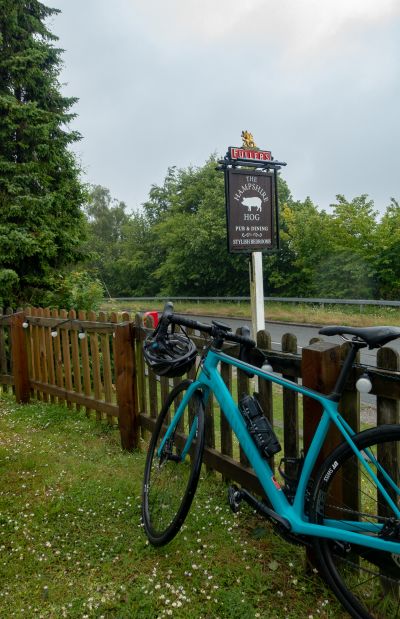 Have you come across a business that goes out of their way to make cyclists feel like valued customers? If so let us know in the comments below.